Software for Workplace Strategy
The Key to Agile Workplaces & CRE Teams.
CoWorkr Analytics help you respond to changes in headcount, business strategy, lease expirations, and more. Future proof your workplaces with CoWorkr sensors so you can achieve space goals:
Efficient Spaces
Dynamic Environments
Responsive Experiences
Request a Demo
Organically Built for a Seamless Experience
CoWorkr's analytics portal was designed completely in-house in order to practically address the needs of corporate real estate in a fluid app environment. No more slow loading speeds, temperamental applications, or rigid workflow due to misaligned 3rd party tools.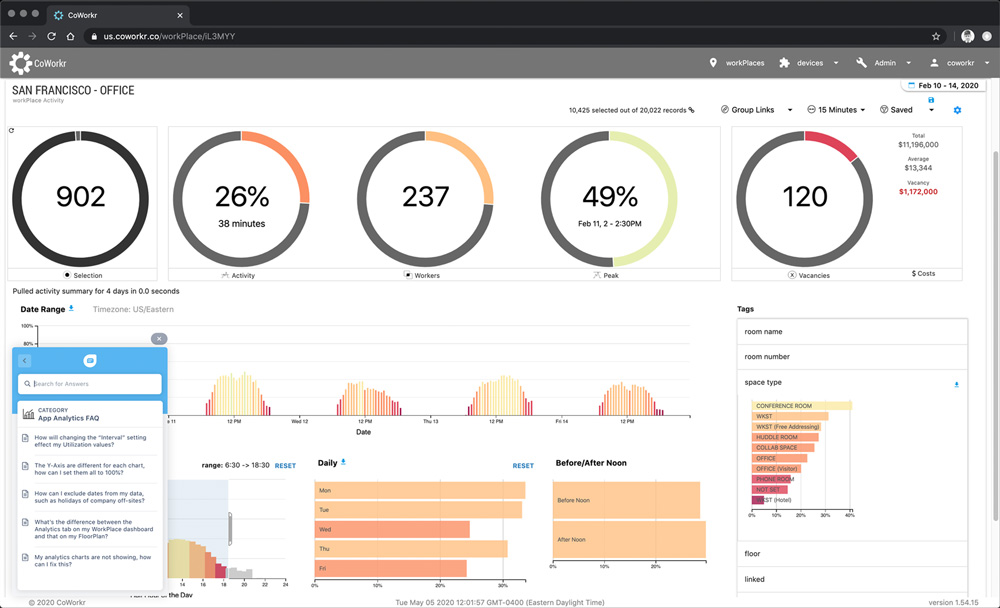 Actionable Workplace Intelligence for Dynamic Planning & Operations
Unlock business value & support the corporate real estate agenda with data-backed business justification. CoWorkr's workplace analytics empowers corporate real estate teams to maximize the potential of their workplace.
Sophisticated workplace intelligence is indispensable for companies seeking to modernize their workplace, especially when considering dynamic strategies & flexible working. CoWorkr's workplace algorithms bubble up key metrics which give clear direction for small & large-scale action, and can be filtered by any attribute – persona groups, space types, asset types, times, etc.:
Activity: Average dwell time of a space
Peak: The highest point of utilization per range
Vacancies: Average unused workstations/spaces
Occupancy: Average used workstations/spaces
Interactive Floorplans With Live Data and Daily Trends
Zero-in on persona-groups, neighborhoods, asset types, space types, and more with native application functionality such as highlighting, point & click, drag & drop.
Configure attributes using CoWorkr's tagging to answer the questions you're out to solve with specificity and ease.
Monitor the activity of floors, groupings, and individual spaces in real-time or review historical events.
Create Daily Floorplans to help alleviate the disconnect between the use of space and janitorial cleaning routines.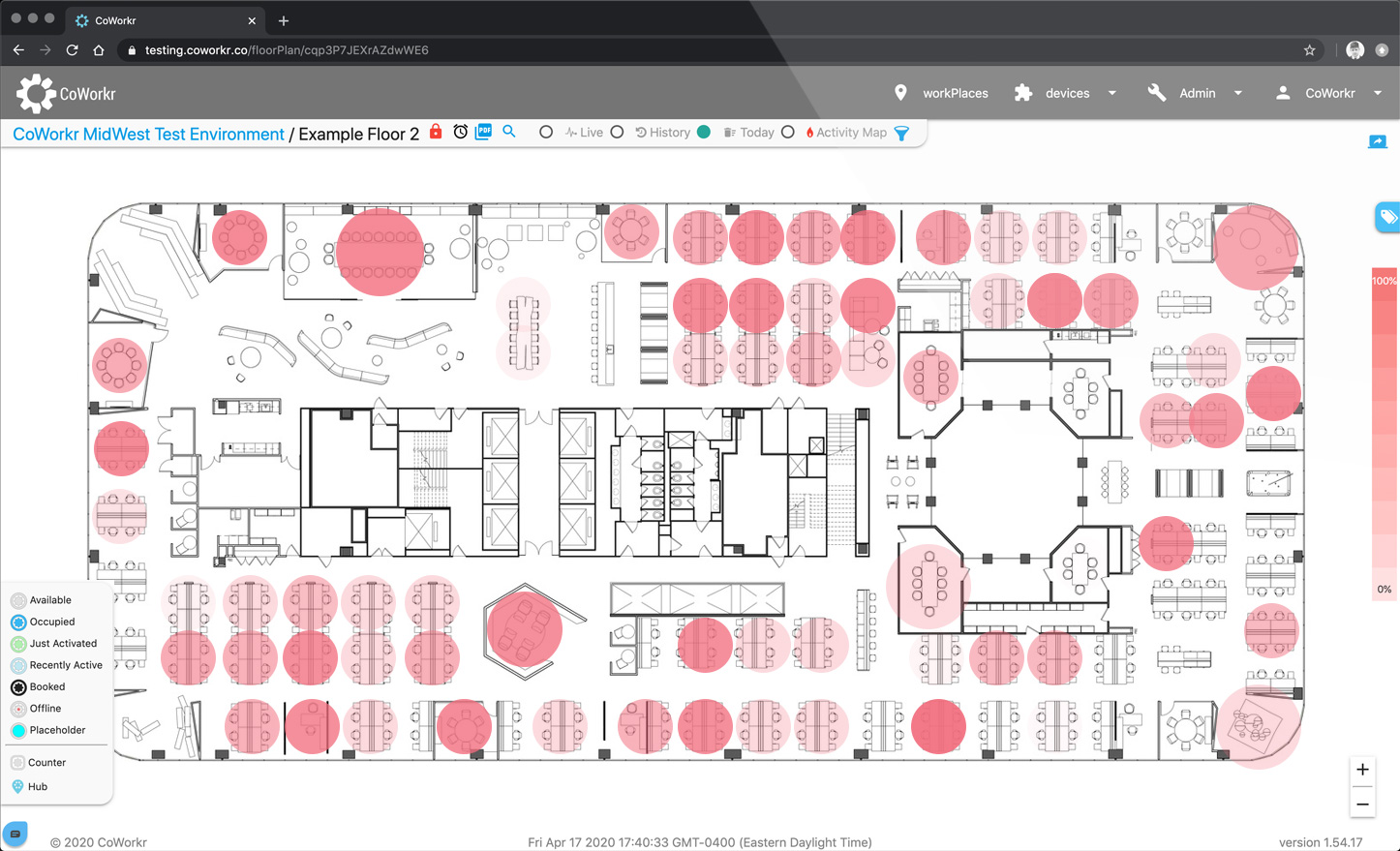 CoWorkr's API Brings Intelligence and Color to Workplace Tools
Subscribe to real-time occupancy event updates.
Leverage real-time events for space booking intelligence.
REST API for querying all data records.
Integrate through one of our existing Partners Apps.
Documentation & support for custom integrations.
Join Partner Ecosystem
CoWorkr offers you comprehensive support for all hardware & software tools:
Live in-App Chat
FAQ & Tutorials
Responsive Email
Friendly Customer Rep
Training Sessions
API Documentation Support
Contact Us
Workplace Analytics Helped Reduce "Ghost-Meetings" Occurrences by 20%
A USA based firm was planning to transition in to a new building. They needed data to better understand how the current spaces were being used so they hoped to optimize room reservations, provide collaborative seating that was utilized as intended while achieving key density and workplace efficiency metrics.
CoWorkr's API integration with Room Release features for their new building has eliminated time wasted on "ghost meetings" by roughly 20%.
Explore Case Study
Learn More About How Our Workplace Analytics Meets Diverse Client Needs
Explore Recent Case Studies
Schedule a Demo With Us
Enter your details below for a no-obligation CoWorkr demo.