CoWorkr Occupancy Sensors Helped an Australian Company Save $5M per Year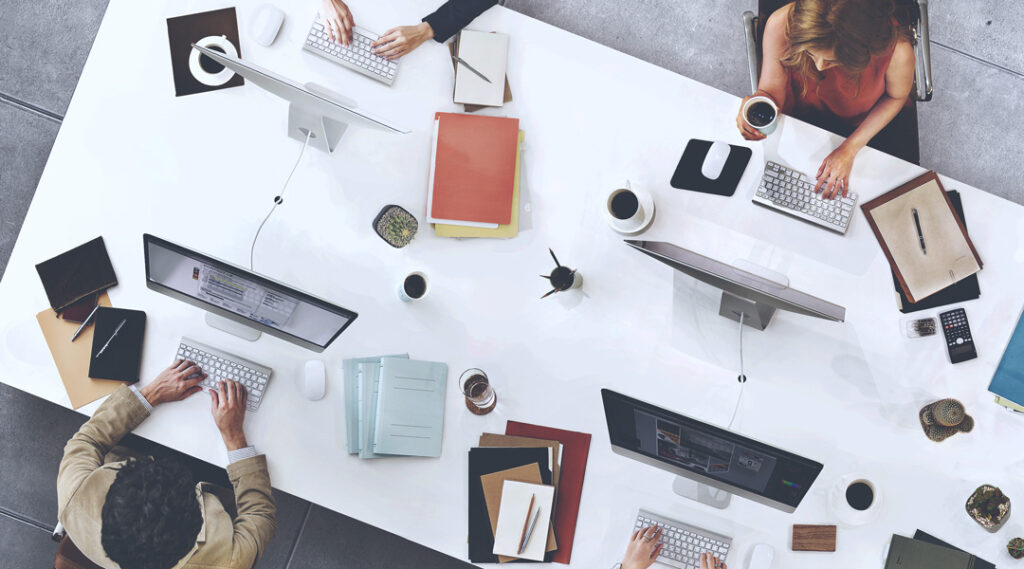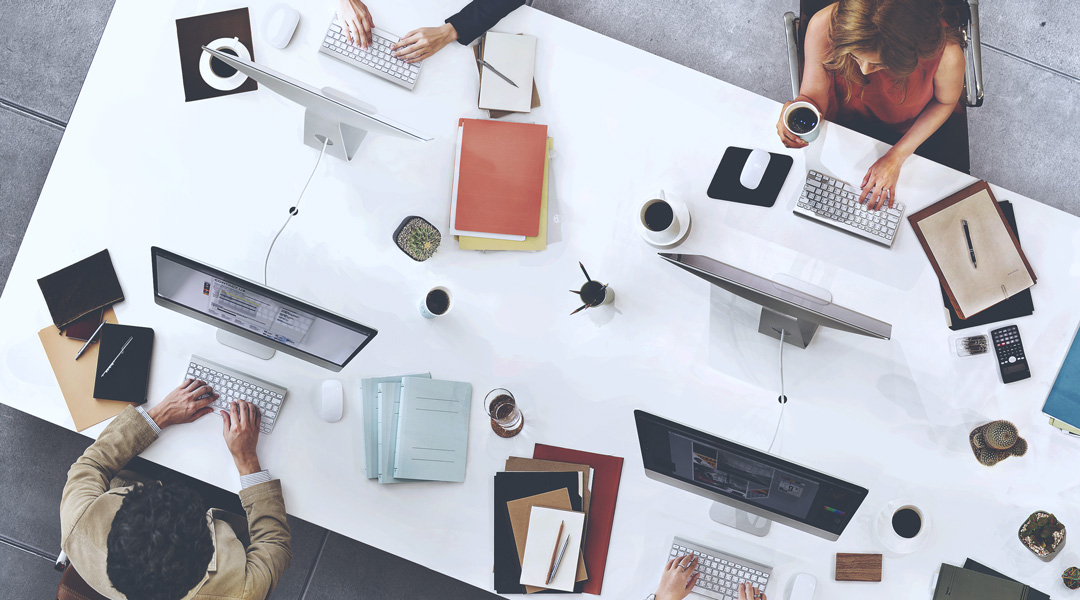 Meeting The Client
Our client was an Australian financial institution with 1300 desks, departmentalized, and stretching over a 5-floor office building.
They were on the lookout for ways not only to save money on property and operating costs but to provide an environment that fosters productivity.
A cost-saving upgrade to a modern, activity-based workspace seemed to be the most promising strategy, which is why they reached out to the experts at CoWorkr.
Meeting The Challenge
A lack of office space efficiency throughout the client's 5-floor building lease was resulting in a staggering $3.25M per year in idle asset costs; a factor that was undeniably putting a strain on their financial department. Meanwhile, they were considering taking on the lease for the 5th floor in the building as workers were complaining about not being able to find a desk within their team's area.
Pre-solution data showed that the company was operating at a consistently low (66%) workspace occupancy, with 325 desk vacancies at peak.
Beyond the unnecessary costs incurred each year, the workplace atmosphere was less than ideal; workstations stood empty each day and in every department, weighing on worker productivity as the vacancies were seemingly not in their team's area.
The firm and its staff needed a space that was optimized but flexible, a cost-efficient and well-oiled machine. The CoWorkr team was no stranger to this kind of challenge, and they faced it with an aim to not only meet the client's expectations but exceed them…
Implementing CoWorkr Solutions
To begin the transformation, CoWorker provided easy-install sensors to track desk, table, and room occupancy and give the client a more detailed picture of utilization throughout the building.
The sensors were installed with no inconvenience to workers, while the comprehensive CoWorkr platform immediately started turning real-time data into actionable analytics for the client.
Only real-time room and desk occupancy monitoring would tell us how workers were dispersed throughout the complex of rooms and desks at any given time.
CoWorkr workplace analytics, based on this real-time data, helped our client determine how to streamline and transform the environment into an activity-based workplace layout, which would boost productivity while reducing overall operating costs.
CoWorkrs API supports activity-based workspace strategy by eliminating idle asset costs. Workers are offered a choice of settings, each optimized for a specific task, and are free to move through these spaces as needed, during the day.
For workers, this provides a sense of constant stimulation and movement, and the model is proven to maximize efficiency while eliminating unnecessary space costs.
In the case of this client, a system of hot-desking also formed a vital part of this strategy.
In a hot-desking concept, workers are allocated desks as needed or on arrival, instead of being assigned a permanent desk, which would usually sit idle when the worker was out of the office or out of the building.
With real-time data from Coworkr smart office sensors, workers can feel confident in finding a desk or couch when they need it!
Hot-desking would be a key factor in minimizing redundancy and dead-space costs, but this would require ongoing desk occupancy monitoring, provided by our occupancy and space utilization sensors.
By adopting hot desks we could then rearrange business units to eliminate vacancies per department; workers would then be assigned or select seats upon arrival, thus driving the activity-based workspace model and raising department energy levels with a transformed and bustling atmosphere.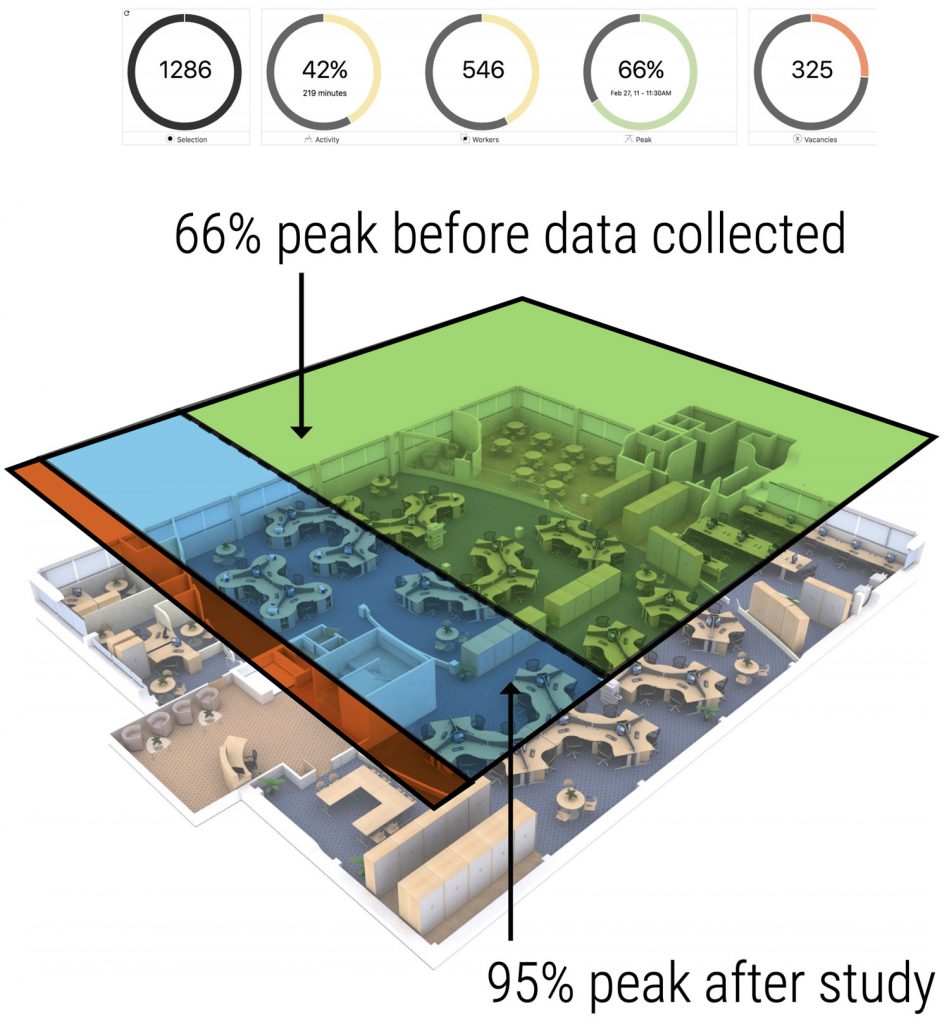 Stellar Results
Through implementing desk occupancy monitoring and continued hot-desking, the client was able to mitigate their lease option on the 5th floor of the building.
Workers now have instant access to what workstations are available in real-time, and activity within all spaces has been uplifted with movement, flow, and consistent optimal density.
This simple shift has dramatically increased worker stimulation, productivity, and engagement within the remaining spaces and building at large, and it's saved the company $5M per year over a 5-10-year lease term.
The CoWorkr strategy was a resounding success as, peak time metrics now show a sustained occupancy increase from 66% to 90%, far exceeding client expectations and creating the highly desired friction-less employee experience.