Connect Your Workplace
Live occupancy data can help you bring workers back to the office and plan for future changes.
Coworkr, a subsidiary of R-Zero, offers a suite of privacy-first utilization sensors that stream live seat & room occupancy. Our platform is the backbone for building a hybrid workplace environment, data driven maintenance, healthy buildings, and future business intelligence.
Request a Demo
Learn How Your Workplace Performs With CoWorkr's Technology
Privacy-by-Design: No Cameras, Fully Anonymous
Versatile: 2 Intelligent Sensors for All Spaces
Live: Real-time occupancy data for Rooms and Seats
Workplace Intelligence: Clear and Concise Analytics
API: Ecosystem of Workplace Technology Partners
Plug-and-Play: Easy to Install, Move, and Maintain
What Do You Get?
CoWorkr offers true real-time occupancy data.
Reliable RTD combined with analytics gives you what you need to champion your real estate or facilities role.
We've Helped Build Better Workplaces for Hundreds of Organizations
CoWorkr has been part of the dynamic workplace journey for corporate real estate teams around the world.
CoWorkr Occupancy Sensors Helped an Australian Company Save $5m per Year
A financial institution with 1300 desks, departmentalized, and stretching over a 5-floor office building, were on the lookout for ways not only to save money on property and operating costs but to provide an environment that fosters productivity.
Through implementing desk occupancy monitoring and continued hot-desking, the client was able to dramatically increase worker stimulation, productivity, and engagement within the remaining spaces and building at large.
Explore Case Study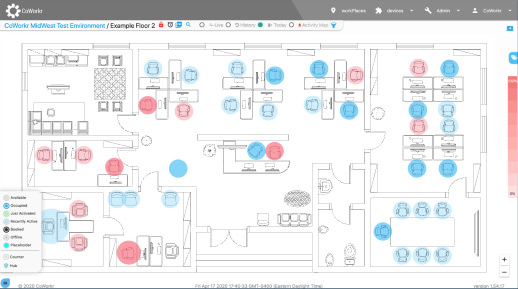 5,000,000+
Days of data collected across more than 400 workplaces.
19.5%
Average percentage of daily vacancies identified per portfolio.
$87,000,000
Cost of vacancies identified in the last 2 years.
Schedule a Demo With Us
Enter your details below for a no-obligation CoWorkr demo.
Subscribe to Our Latest News